Our Research
Our mission at Neuhaus Education Center is to equip all teachers with evidence-based knowledge in the science of reading that will enable them to teach all students to read, even students with dyslexia.
Neuhaus Research Guide
Learn more about the components of Neuhaus Education Center's classes and curriculum. Our Research Guide outlines spelling, writing, reading, oral language, language enrichment, metacognitive skills, basic language skills, and many other areas in which Neuhaus can offer educator and parent assistance.
Evidence-based Instruction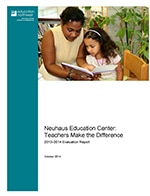 Teachers Make the Difference
Does evidence-based professional development and coaching improve the knowledge and classroom practice of early childhood educators, and subsequently improve student outcomes? That is what the Neuhaus Education Center (Neuhaus) sought to answer in the evaluation of the Teachers Make the Difference (TMTD) program for prekindergarten (PreK) teachers working with disadvantaged students in traditionally lower performing schools in the Houston Independent School District (HISD).
– Excerpt from Neuhaus Education Center: Teachers Make the Difference