Our Story
Neuhaus Education Center was founded in 1980 by a group of parents and teachers who were interested in bringing effective Orton-Gillingham-based reading instruction to Houston. They had just organized the Houston Branch of the Orton Society (currently the International Dyslexia Association) as a way of gathering information about appropriate instruction for their dyslexic students.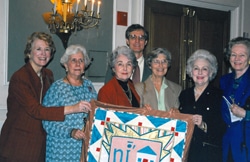 Marilyn Beckwith, Fredda Parker, Virginia Noel, Nancy Collie, Betty Neuhaus, Virginia McFarland, and Founding Director Lenox (Hutcheson) Reed laid the foundation for Neuhaus Education Center. As serious and determined teachers and parents, they each played an important role in establishing the legal, financial, and educational foundations for the center.
Aylett Cox and her staff at the Scottish Rite Hospital in Dallas had developed an Orton-Gillingham curriculum named Alphabetic Phonics to teach dyslexic students to read, write, and spell. Lenox Reed, Fredda Parker, and Marilyn Beckwith studied with Aylett Cox and Margaret Smith. The Dallas-based teachers committed to a four-year plan to provide the guidance and professional development to help Lenox, Fredda, and Marilyn in establishing an education center in Houston to instruct teachers in the use of the Alphabetic Phonics curriculum.
Since the beginning, parents whose children were struggling to learn to read have called Neuhaus for information and direction on how to help their children. In response, the Family Support Office has grown to meet their needs. Family Support Coordinators respond to calls and emails for information. Monthly Information Presentations and annual seminars are scheduled to give more in-depth information to parents.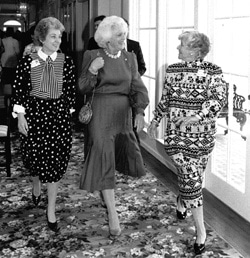 Adult learners also called Neuhaus for literacy help. In 1985, in response to interest expressed by adults in the community who wanted to improve their reading and spelling skills, adult reading and spelling classes began. By 2011, classes were held two evenings a week during the school year. This outreach program led to the publishing in 1993 of a new Neuhaus curriculum, Multisensory Reading and Spelling.
In 1999, after 15 years of teaching teachers to use Alphabetic Phonics, Neuhaus published a refinement of that Orton-Gillingham instruction named Basic Language Skills. In that year, the Neuhaus Dyslexia Specialist Preparation Program (DSPP) was accredited by the newly formed International Multisensory Structured Language Education Council (IMSLEC). Graduates of the DSPP are qualified to take the national accreditation exam to become Certified Academic Language Therapists (CALT). In 2011, the Texas Legislature approved the licensing of Dyslexia Therapists and Dyslexia Practitioners. The Neuhaus Dyslexia Therapist Preparation Program (DTPP) and Dyslexia Practitioner Preparation Program (DPPP) prepare qualified teachers for licensure.
In 2000, the National Reading Panel Report established what we already knew, that direct instruction in phonemic awareness, decoding, fluency, comprehension, and vocabulary are helpful to all students. In response to the new research, Neuhaus expanded its mission to preventing reading failure by providing teachers of all students with professional development in research-based methods of reading instruction.
There were 25 teachers in the first Neuhaus professional development classes in 1981. Since then, the Neuhaus Education Center has increased our course offerings to more than 15 taught in-house and 10 offered online, providing scientifically-base reading instruction to more than 89,000 teachers of reading, served approximately 2,000 adult learners, and in the past year alone, assisted 4,300 families through consultation and outreach programs.